This is the most highly researched benefit from ashwagandha. Not to mention it is an impressive feature to add to the resume of KSM-66 Ashwagandha. Men all over the world have been looking for a way to raise their testosterone levels or maybe just get them back to where they used to be. KSM-66 Ashwagandha can help raise testosterone levels and with this, it also enhances sexual function. In this way, ashwagandha does not discriminate, sexual functions are improved in men and women.
Sexual function is a big deal for most people. Unfortunately, it, like a lot of human processes, slows down with age. Men and women across the world have been searching for a way to get their libido back to its peak. Luckily, with all the research that has been done on ashwagandha, there is a safe and proven way to do this.
Boosts testosterone in men
Increases sex-drive in both men & women
Increases semen volume & sperm count in men
Drastic increases in strength
Faster recovery time from weight training
For men losing libido can feel like the end of the world. That's why in 2013 a study was done for Evidence-Based Complementary and Alternative Medicine. Scientists wanted to test if ashwagandha could benefit testosterone levels and sexual function for men. They created a 90 day experiment with two groups; a placebo group and a group receiving ashwagandha. Men who had been given ashwagandha had significantly increased levels of semen volume, sperm motility, and sperm count. Those who had been taking the placebo only had minimal improvements.
In this study the scientists also noticed a large increase in testosterone levels in participants who were administered ashwagandha. Men taking the placebo were again found to have little to no improvement. (2)
When it comes to women, KSM-66 Ashwagandha can also drastically improve their sex lives. BioMed Research International did a study in 2015 on the effects of ashwagandha on a woman's sex life. This was a randomized, double blind pilot study. It was done at the Trupti Hospital and Santati Fertility Center.
50 women (diagnosed with female sexual dysfunction) participated in this 8 week long study. Some of the women were given ashwagandha while others were given a placebo. The women rated themselves in areas such as "arousal," "lubrication," "orgasm," and "satisfaction" on a questionnaire with the female sexual function index and thet female sexual distress scale. In the final analysis it was found that the women who were given ashwagandha rated higher in every area when compared to those who had taken the placebo. (4)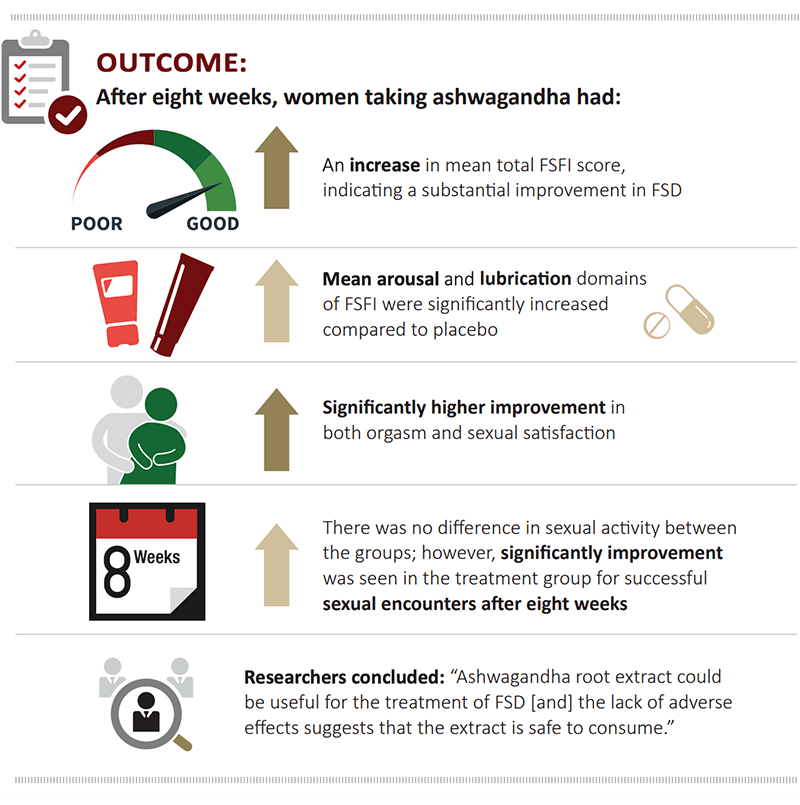 It is still unknown the direct cause of the increase in women's improved sexual function. All we know for sure is that this was a direct effect from the ashwagandha supplement. It is able to increase libido in men and women and it increases testosterone levels in men.
The raised testosterone levels can also help people gain more strength and have a better recovery after working out. Gaining muscle takes hard work. When you combine ashwagandha with your workout routine, it can help you to get muscle on more quickly. Plus, with its added benefit of shortening the time of recovery, you can get back to the gym as quickly as possible.
Another study was done in 2015 to test the role ashwagandha plays in muscle strength and recovery. It was estimated that both would increase due to a gain in testosterone. Each participant was given either ashwagandha or a placebo. All test subjects were then instructed to do the same weight-training exercises for 8 weeks.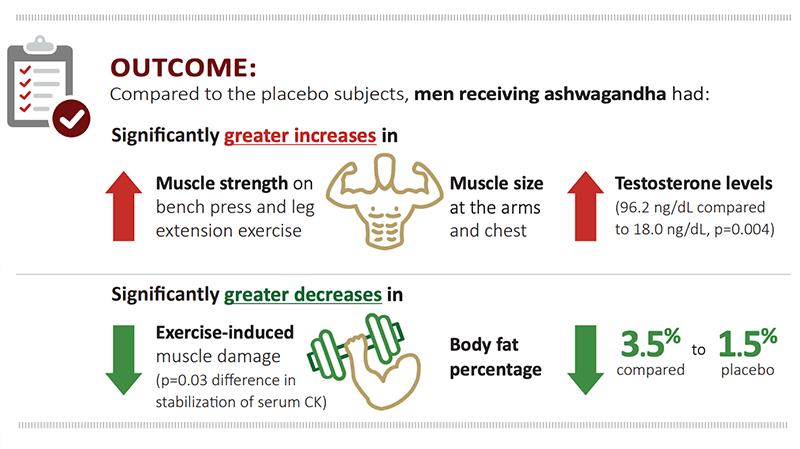 Those who had received ashwagandha had a significantly greater increase in muscle size and strength when compared to participants who received a placebo. In this same study, those who were given the placebo were found to have significantly more exercise induced muscle damage. While those who received the ashwagandha had much less muscle damage.
In this study it was also found that the testosterone levels were raised in individuals who had been administered KSM-66 ashwagandha. These subjects were also reported with a significant decrease in body fat. On average subjects taking the placebo only had a 1.5% decrease in body fat while the KSM-66 ashwagandha group on average lost 3.5% of their body fat. (3)
This brand was designed with you in mind and will really help you get results. KSM-66 has properties to enhance your ability to help grow muscle size, increase strength, and shorten recovery time. It has even been shown to decrease body fat and, of course, raise testosterone levels. Plus, don't forget, it can also aid with your abilities in the bedroom, for both ladies and gentlemen.